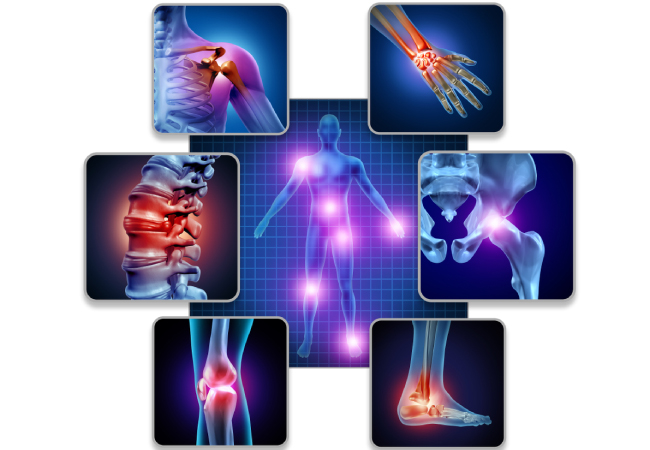 The word arthritis is referred to describe pain, swelling, and stiffness in a single joint or multiple joints. Arthritis isn't a solitary condition there are so many different types.
The condition can affect individuals of all ages; including children and teenagers. Some forms of arthritis are a bit more common in older individuals.
In case you have pain in or around any joint or joint that is persistent for a few days, you should see a health specialist. Figuring out what's causing your pain is key to figuring out the appropriate treatment and self-help options.
Arthritis treatments have improved greatly in recent years and, for several types of arthritis, mainly inflammatory arthritis, there's a clear benefit in initiating treatment at an early stage.
It may be tough to say what has caused your arthritis. There are so many factors that can be responsible for increasing the probability of every kind of arthritis.
It could be that the type of genes you inherit from your parents or grandparents made you more likely to get arthritis.
Arthritis can make life difficult by causing pain as well as making it tough to get about. The signs/symptoms of arthritis can vary from week to week, and even from day to day. Different types, such as osteoarthritis and RA or rheumatoid arthritis, are long-term conditions. However, with the appropriate treatment and approach, you can manage your signs/symptoms.
Whatever condition you have, remaining physically active will always help you stay mobile and will be good for your general health.
There are several treatments that exist for treating Arthritis and Ulcerative Colitis. Overall, the purpose of treatment is to scale down pain and prevent further joint damage. The most commonly used treatment Is Xeljanz (tofacitinib 5 mg).
Xeljanz (tofacitinib) is an expensive medicine that acts on the immune system. It is more popular than comparable medicines. There are currently no generic substitutes for Xeljanz in the US. Fortunately, Natco Pharma, an Indian company, launched a generic Xeljanz (tofacitinib) named Jaknat 5 mg, which can be the best treatment for you.
Indication of Xeljanz (Tofacitinib):
This medicinal product is widely used for the treatment of certain types of arthritis (such as psoriatic arthritis (PsA), rheumatoid arthritis (RA), and polyarticular course juvenile idiopathic arthritis-pcJIA).
In Rheumatoid Arthritis (RA), the patient's body attacks its own joints, which specifically causes pain, swelling, and loss of function.
The active ingredient in Xeljanz medicine, tofacitinib, is an immunosuppressant that works by inhibiting the action of enzymes called Janus kinases (JAK). These enzymes play a crucial role in the process of inflammation and damage of the joints that occurs in Rheumatoid Arthritis. By blocking the enzymes, this medicine is expected to scale down the inflammation and other signs/symptoms of the disease.
Tofacitinib 5 mg tablet is also used for the treatment of a certain bowel disease (ulcerative colitis). It helps to scale down signs/symptoms of ulcerative colitis (UC) such as rectal bleeding, diarrhea, and stomach pain.
Reason Behind the Popularity of Xeljanz (Tofacitinib):
Xeljanz was first approved in 2012 for treating adults with rheumatoid arthritis (RA) who did not respond well to the medicine methotrexate.
In 2017, the Food and Drug Administration (FDA) approved tofacitinib for treating patients with a second condition named psoriatic arthritis (PsA), which causes joint pain and swelling, who did not respond well to methotrexate or other similar medicines. This means that the medicine is often prescribed when patients aren't responding to other medicines that are normally prescribed as a first line of defense against rheumatoid arthritis.
In 2018, the US FDA approved this medicine to treat ulcerative colitis (UC), which is known as a chronic, inflammatory disease that affects the colon.
In 2020, FDA approved Xeljanz (tab tofacitinib) for treating Active Polyarticular Course Juvenile Idiopathic Arthritis.
In 2021, Food and Drug Administration approved Xeljanz for treating Active Ankylosing Spondylitis.
Xeljanz (tab tofacitinib 5 mg) is an anti-JAK, or Janus kinase inhibitor, which is designed to target a specific cellular process that exists in the immune response and resulting inflammation in rheumatoid arthritis. Xeljanz is the first medicine of its kind.
Side Effects of Xeljanz:
Xeljanz (tofacitinib) may be responsible for increasing the risk of catching infections, which can become severe in cases that are not treated. You may be at increased risk for getting infections if your age is 65 years or more, have diabetes, or chronic lung disease, or are using corticosteroids. Your Xeljanz therapy may be stopped by your health specialist.
Common side effects:
headache,
diarrhea
upper respiratory tract infections,
cold symptoms such as sore throat, runny or stuffy nose.
Let your doctor know in case you experience serious side effects with Xeljanz including:
jaundice,
loss of appetite,
feeling very tired,
vomiting,
dark urine,
skin rash,
clay-colored stool,
fever or chills,
weight loss,
night sweats,
changes in bowel habits,
sores in your mouth or throat,
stabbing chest pain,
pain or burning when you urinate,
shortness of breath,
skin redness or swelling,
cough with mucus or blood.
What is the Price of Brand Name or Generic Xeljanz 5 MG: As per drugs.com, the tofacitinib cost (Xeljanz 5 mg), is around $85.95 per tablet in the US, depending on the pharmacy you visit.
However, the same medicine manufactured by the same company, Pfizer, is just $14.01 per tablet from Turkey. It is $28.96 per tablet from Australia and $37.09 per tablet from Canada (as of March 11, 2021).
The cost of a generic version of Xeljanz from India is only $1.66 per tablet, containing the same active ingredient named tofacitinib.